MoneyOrc is a financial education tool for kids and teens. Unlike existing products, it is designed to give our children a full overview of financial system. Full-time/contracted jobs, tenders, funds, investments, loans, insurance, penalties, lotteries, stock market - everything!

Small step at a time, wrapped as a fun family game - MoneyOrc is extremely powerful tool, designed by leading financial analysts and mathematicians. Most of the concepts are presented as a simplified version of real-life processes.

Another aspect of MoneyOrc is a strong focus on family. It is specially designed in a way that parent-child interaction is expected. Stay closer!
Allowance management
No more forgotten allowance payments! Just setup one or more automatic transactions and MoneyOrc will do the rest.
Automatic allowance payments
Automatic weekly or monthly deductions
Transactions review
Convenient way to add / deduct money
You can even check account status by SMS or phone call!
Chores, odd jobs and tenders
By far, this is the most intensively used feature. MoneyOrc gives a very intuitive tool for chore management.
Define weekly chores
Track chores status
Print paper weekly chore charts for those just starting
Approve / decline weekly chore cards
Request a one-time job
Declare a tender and let kids offer bids
Mobile device notifications whenever chore is completed or chore card status changes
Tickets and penalties
Penalties, fines, tickets - whatever you call it, it is a punishment. And being such, it could be difficult and emotional process. Unfortunately, punishment is inevitable part of our life. But how does it really work?
MoneyOrc provides a tool to handle penalties in the least emotional way, while giving hands-on overview of law enforcement system.
Define the rules AHEAD OF TIME
Define the penalty for violation
Issue a penalty whenever a rule is violated
Give child a chance to speak up and dispute the penalty later in time when the situation calms down
Give parent a chance to take another look at the situation and listen to the child
Get parent and a child together to peacefully talk and analyze what happened and why
Insurance
This feature allows your children to learn the basics of insurance system. Just like in real life, a child is expected to pay weekly premium for pre-defined insurance policy and then take advantage of its coverage whenever the incident happens. What incident? What coverage? You define!
Parents setup insurance policies and define weekly payments
Once an incident happens, a child submits insurance claim for parental approval
Parent approves the claim in case it matches insurance policy, or declines otherwise
Investments
Investment is the way to put money to work.
Parents define interest rate and other terms
Child decides how much to invest and for how long
Loans
Kids need more money than they have? Well, everyone does... The universal solution is - take a loan. This feature gives a solid understanding about credit system, interest rate and loan strategies. The child will visually see the effect of extra payments at different stages.
Parents define maximum amounts and interest rates
Child applies for a loan
Parent approves or declines the loan application
Once the loan begins, both child and parent can watch the progress
Funds
Apart from opening a special savings or spending funds, you can define hobby or special funds with parents matching. Similar to 401K, a fund can be opened for special needs. Printer supplies, cell phone bills, RC airplanes - all of this can become a special fund where parents match child contributions. This way child stays financially involved into an expensive project, paying a portion of it.
Stock Market
Yes, you read it correct! Fully virtualized, based on very sophisticated mathematical engine, MoneyOrc Stock Market represents a simplified version of real-life stock markets. Children will learn basics of trading, market trends and analysis. Auto-adapting complexity allows anyone between 6 and 18 years old to become a stock market professional.
Orc-mail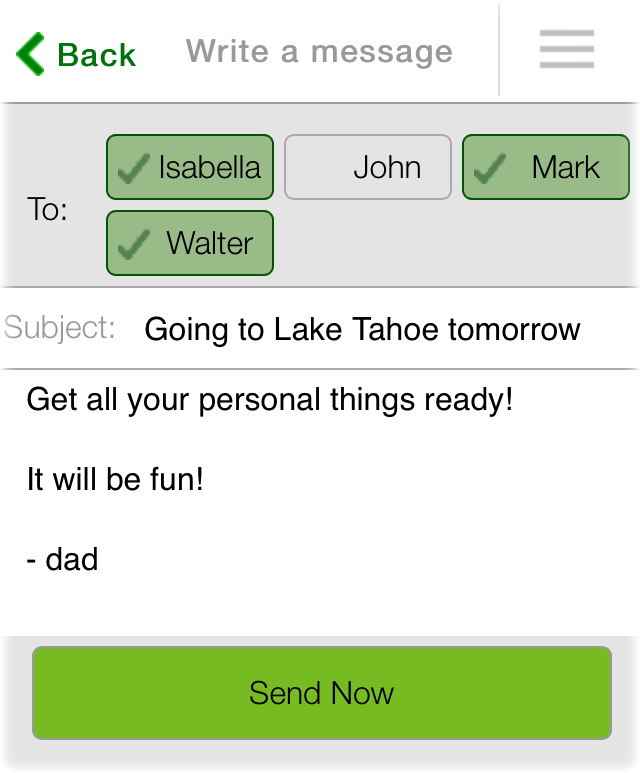 MoneyOrc has built-in messaging system, where parents and children can exchange messages similar to emails. Unlike public email accounts, Orc-mail is fully protected against any messages sent to your children form the outside world. In this sandbox environment, only you and your children can contact each other. MoneyOrc will never allow anyone else to reach out to your kids. As well as it will never send anything on its own. Simple and powerful, this is a great tool to teach the basics of online communication, without having to worry about unsolicited emails.
Lottery
Family lottery is a fun game where children learn the idea of how the luck works.
Notifications and monthly reports
One thing about MoneyOrc - we want you to feel like a family. And we do anything possible to ensure constant communication between you and your child. On the other hand, we would like to give you a feeling how your child is progressing in financial education. Monthly reports are specially designed to show you the progress and point out goods and bads.